In a democratic society, there is an inevitable tension between the need of the government to protect secrets in the name of national security, and the right of the press to print all but the most dangerous of those secrets, particularly when the claim of "secrecy" is used to cover up politically damaging government decisions. Top Secret: The Battle for the Pentagon Papers is an inside look at the Washington Post's decision to publish the top-secret study documenting the United States' involvement in Vietnam. The subsequent trial tested the parameters of the First Amendment, pitting the public's right to know against the government's claim of secrecy. The epic legal battle between the government and the press went to the nation's highest court and is arguably the most important Supreme Court case ever on freedom of the press.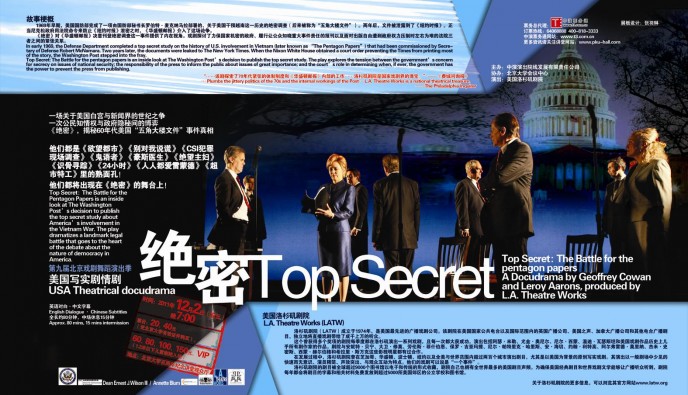 In this riveting historical docudrama by Geoffrey Cowan and Leroy Aarons, Top Secret: The Battle for the Pentagon Papers, L.A. Theatre Works brings these important days and the subsequent trial to life as the Washington Post struggles with the decision to publish these "classified" documents. The play, based on a wide range of sources, including interviews and documents obtained through the Freedom of Information Act, follows the debate played out at the home of Ben Bradlee, (the paper's famous editor) as his staff sorts through the documents and tries to decide if publishing the Papers violates national security. The play includes their momentous decision and the legal wrangling that followed — leading up to the historic decision that reaffirmed the First Amendment. Our government's relationship to the media, the citizenry's right to information, and the First Amendment are all critically explored against the canvas of the Vietnam War and the secretive Nixon White House.
If you want to learn more about the Play and the Pentagon Papers, go to TopSecretPlay.org.